Sarah Thompson is an NCAA DI student-athlete at Syracuse University. The Ottawa native interned with CARHA Hockey in the summer of 2021 and is a close friend of the association. Check out her project, Sticks Together, which aims to provide the necessary resources to give children in underprivileged communities the opportunity to learn and play the sport of hockey.
---
Two years ago, I competed for Team Canada in the 2020 U18 Women's World Championship in Bratislava, Slovakia. Despite it being the top tournament showcasing the world's greatest talent, Canadian sports channels didn't broadcast any games. Friends, family, and hockey fans around the world shared their frustration through Twitter and other social media channels, demanding better coverage. Yesterday, I watched the Canadian National Women's Under-18 Team win the World Championship on TSN. The 2022 Women's U18 World Championship was broadcasted on TSN and on ESPN+ or NHL Network for American viewers. In just two years, this tournament has transitioned from a low-quality live stream recording to full coverage on essential sports channels for general sports entertainment.
It is no secret that female professional athletes continue to push and fight for a level playing field. Female hockey players today are still fighting to earn a sustainable salary while playing in the current state of the professional game. When I started my college career at Syracuse University, I didn't foresee a professional career afterward. I knew there were leagues to play in, but the benefits of working a well-paid corporate job outweighed that of playing professional hockey for little compensation. There are currently two active women's professional hockey leagues: the PWHPA and the PHF. The Professional Women's Hockey Players Association is a nonprofit 501(c)(6) organization founded following the dissolution of the CWHL on account of the player's dissatisfaction in the operations of the PHF, formerly named the NWHL. Players in the PWHPA raised concerns over a lack of professionalism and sub-standard conditions within the NWHL. Since then, the NWHL rebranded as the Premier Hockey Federation (PHF) and has implemented several structural changes. Both leagues aim to create opportunities for women and to inspire the next generation of athletes by advancing the game of hockey. In just the two years that I have been playing NCAA DI college hockey, women's professional hockey salaries have increased marginally. Players are starting to sign contracts above US$40,000 with the top paid athlete, Mikyla Grant-Mentis, signing with the Buffalo Beauts for US$80,000. Progress is being made but the gender pay gap remains significant.
It is an exciting time for female athletes to fight for funding, resources, and ultimately for equality. Our voices are being heard and the persistence and dedication of men and women advocating for equality continue to promote the growth of the game. As a rising junior on the Syracuse Women's Ice hockey team, I will have an important decision to make in just a few short years. I am very appreciative to have options to play professionally and am thankful for the players currently playing and advocating for a sustainable professional league. I hope that by the time my college career comes to an end, I won't have to choose between earning a living from a corporate job and playing professional hockey.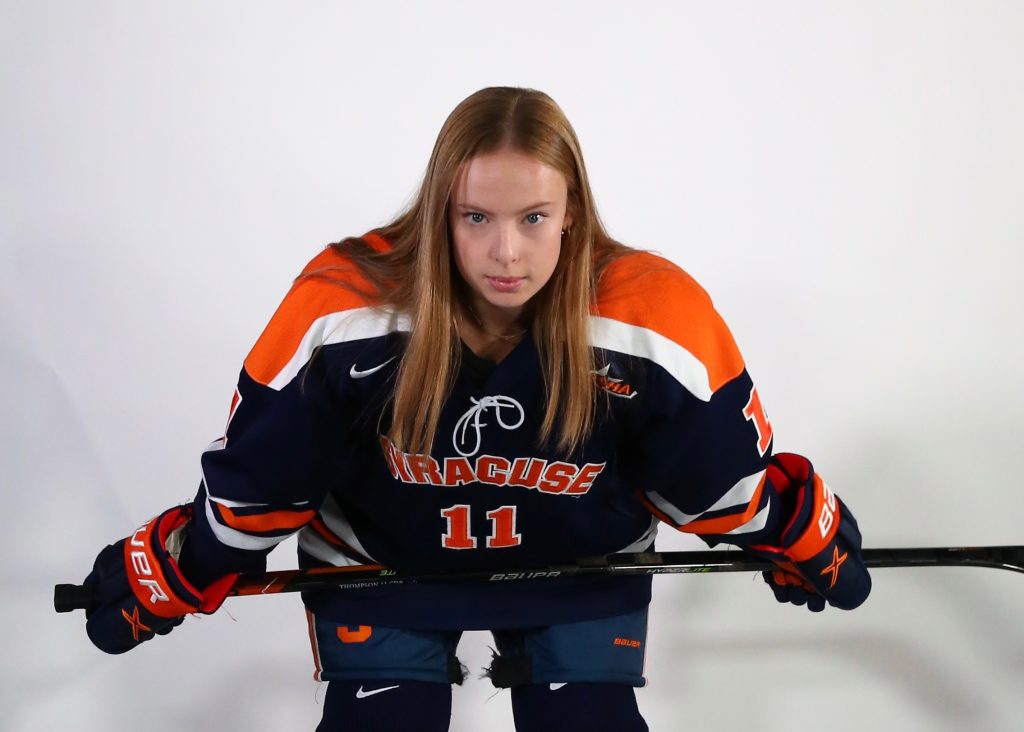 Photo courtesy of Sarah Thompson