Three Stars Presented by Lawrie Insurance Group

Paula Coutts is the Head Librarian at the Tumbler Ridge Public Library. She shared the wonderful ways her staff adapted to the challenges of this past year and made their services accessible to the community. Congratulations to the team at Tumbler Ridge Public Library!
VOTE FOR THE TUMBLER RIDGE PUBLIC LIBRARY! – Ends Friday, September 24
How did you enter to be a part of the #HockeyVacciNation campaign?
I saw the post on social media (Facebook) and we looked into eligibility requirements with CARHA. I was very proud of the hard work my staff had put into transitioning our TD Summer Reading Club to an at-home/online program in response to the COVID-19 pandemic. This seemed to be the perfect opportunity to recognize their efforts and achievements.
What charity/organization have you selected for your donation?
Since the Tumbler Ridge Public Library is a registered charity, we have chosen to invest the donation back into our Children's Programming. Specifically, we would like to use it to support the launch of the Dolly Parton Imagination Library in our Community. This program provides a free, high-quality book every month to children ages 0-5 in Tumbler Ridge. This is a great addition to our free programming currently offered through the Library. In recent years, we've really seen numbers boom in our under 6 age group and we would like to enhance our current early years literacy programming.
How has COVID affected your programming?
In 2021, we were still apprehensive about offering in-person programming, because our attendance numbers in the past for this program have exceeded as many as 60 children for a one-hour program in a fairly small space. This would have exceeded the numbers for our COVID-19 safety plan. We did not want to have to restrict the number of children who could attend in person. Rather, for fairness and continuity's sake, we had all participants join in online and at home. We were able, however, to welcome all our participants outside the Library for our Closing Ceremonies, as the mask mandate had been re-instated, and the Ceremonies were held outside. Participants were able to be physically present to receive their reading incentive prizes, play games, and have snacks with our Staff and other participants. It was a great way to close our TD Summer Reading Club.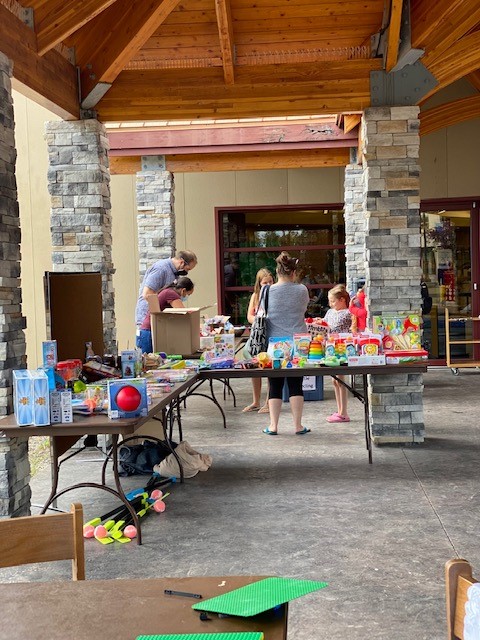 What a unique idea to bring your TD Summer Reading Club to families in their own homes! Can you tell us more about how you accomplished this and the response you had from your community?
The staff and I discussed the impact the COVID—19 pandemic was having on children and their families in our community. We did not want to cancel the TD SRC in 2020 as we understood how much the kids enjoyed it and looked forward to it. We realized it would mean even more to them when they had been cut off from school, family, and friends due to the pandemic. Staff was able to re-adjust programming to be offered in a mix of online programming as well as non-contact home deliveries of weekly craft kits. They recorded two stories read aloud daily, shared online, due to the publishers waiving their copyrights. We launched a YouTube channel to make it even more accessible. We also recorded our Summer Students demonstrating the assembly of the craft, as well as provided print instructions in our at-home kits, to ensure that kids without the Internet or computers could still participate. Internet access is not always consistently available in Tumbler Ridge, so printed instructions were important to include.
We were surprised and overwhelmed by the Community's response. Enrolment and participation went up 20-30% from the previous year and we delivered 5002 craft kits at participant's homes. It should be noted that our population is under 2000; we were truly taken aback by the high demand!
Are there any other ways you've helped keep your community connected?
We assisted clients with countless over-the-phone reference questions and offered non-contact home delivery of Library materials such as books and DVDs for free, while we were closed under Public Health Orders.
Prior to the pandemic, we offered free computer access and basic digital literacy tutorials for our clients to help them acquire the skills to fill out forms online, apply for jobs…etc. We also offered a free resume writing service. When the pandemic hit, these services were temporarily suspended when the Library closed. As one of the first public, non-essential businesses to re-open in our community, these services were able to resume, so we could continue to support our Community. We also partnered with Telus later in 2020, to provide free Internet Hot Spot access hubs to our clients for one week loan periods.
How will the $500 donation be used?
The $500 donation will be used to launch the Dolly Parton Imagination Library in Tumbler Ridge. We are currently awaiting the results of the new census numbers to launch our program, since we know the number of children in Tumbler Ridge ages 0-5 has increased significantly since our last census.
What does it mean for you to be a finalist for the $10,000 grand prize?
It means we can launch the Dolly Parton Imagination Library. We've been looking into offering the program and $10,000 means we could give free books monthly to every child in Tumbler Ridge under the age of 6 for almost five years. Early literacy is so important. Many of us remember our parents tucking us in at night and reading us a story, or even flipping through picture books on our own, but what we might not acknowledge, is that this laid the foundation for our early literacy skills development.
Many people might shy away from borrowing Library books for this age group, since children under the age of 6 love their books hard. They bring them in cars, in backyards and to bed. People sometimes worry books will be damaged or lost and might prefer to purchase them instead of borrowing them due to that. But for some, purchasing books on a regular basis isn't a possibility. This program means that we can get high-quality books into the hands of children in Tumbler Ridge under the age of six for free every single month. I'm so proud of our Children's programming and adding the Dolly Parton Imagination Library to our roster would be a perfect complementary addition.