For Randy Frykas, outdoor hockey represents the purest form of the sport. A freelance documentary filmmaker out of Winnipeg, Manitoba, Frykas wanted to find more ways to incorporate hockey into his busy life. In late 2019, he began to focus on his own projects and content that interested him and teamed up with stickhandling specialist Pavel Barber for a documentary short. As he was completing the video, the country went into its first lockdown of 2020.
The pandemic provided an opportunity to slow down and think. It quickly because apparent to Frykas the importance of staying active. Hockey games weren't permitted, but he could still go outside with a stick and a puck. He came up with the idea of a program to enjoy "the other side of the game. To just slow it down and enjoy the game for the simple aspects."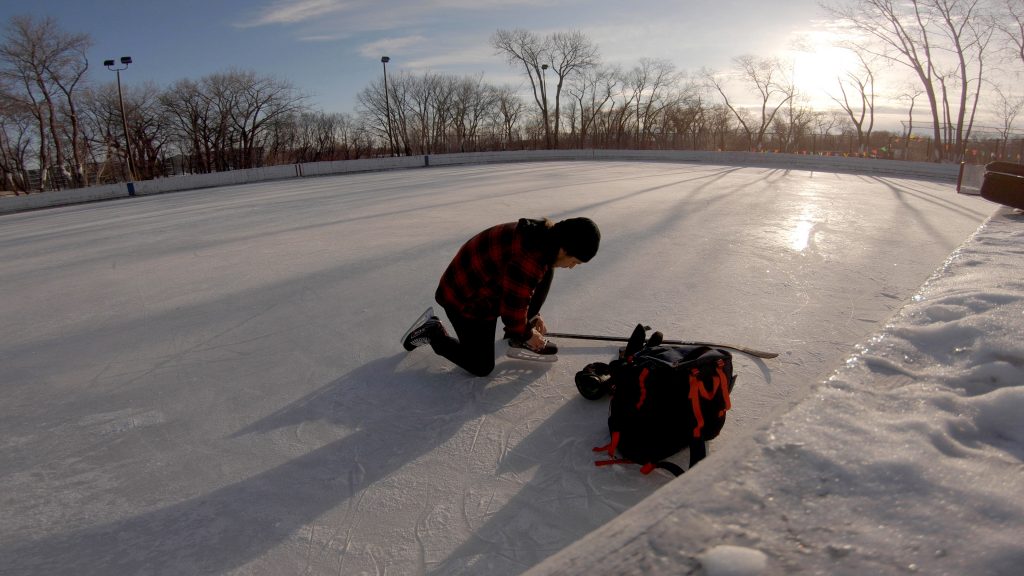 The Outdoor Hockey Club is precisely that. It came about to 'encourage people of all ages, backgrounds and skill levels to head outside to play hockey as a way to stay active and healthy.' It wasn't about competing against others but rather challenging oneself, improving skills, and developing new ones.
Getting out on the ice was a great escape, as Frykas captioned in February 17 Instagram post highlighting his improvement: "As of last week, I feel I really have the hang of it.. and sure it's something that I won't use in a game but it got me outside, for fresh air and exercise.. and that's what I wanted more!"
When COVID cases were lower last spring and summer, Frykas started reaching out to various hockey brands and equipment companies about putting together a series of outdoor hockey events for winter 2020. As cases increased, the idea was sidelined. Switching efforts, focus turned to building awareness for the project.
"Everyone loves hockey pucks, and if you're outside playing, you can never have enough pucks."
With that in mind, Frykas created hockey pucks with the Outdoor Hockey Club logo, distributing them to people he knew or leaving them around. Unable to meet in person, this was his way of connecting with his community, and soon he was getting more requests on social media to drop off pucks safely. People were asking where to get the pucks, and he was shipping them throughout Canada and into the United States.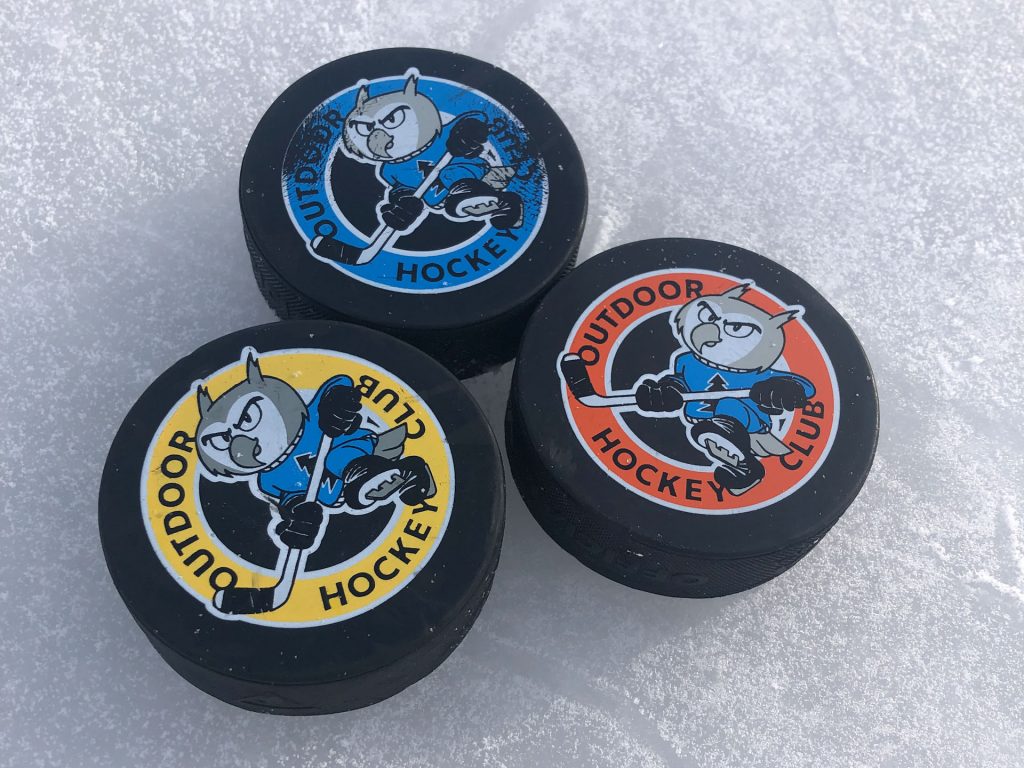 Combining two of his passions, Frykas began creating more content with his GoPro and other camera gear to share the Outdoor Hockey Club's message.
"It's been my way of what can I do to combine the things that I've learned over my 20 years of being a professional filmmaker and take those skills and combine them with my hockey skills and my love for the game and see what I can make of it."
This kept him busy most of the winter and was an excuse to get to the rink for a few hours when the sun came up before work. A gifted storyteller, the videos showed "very relaxed hockey moments and things that I was doing outdoors here, things that you could do for fun. You don't have to like take it so seriously. Just get outside and get fresh air and have a blast kind of thing."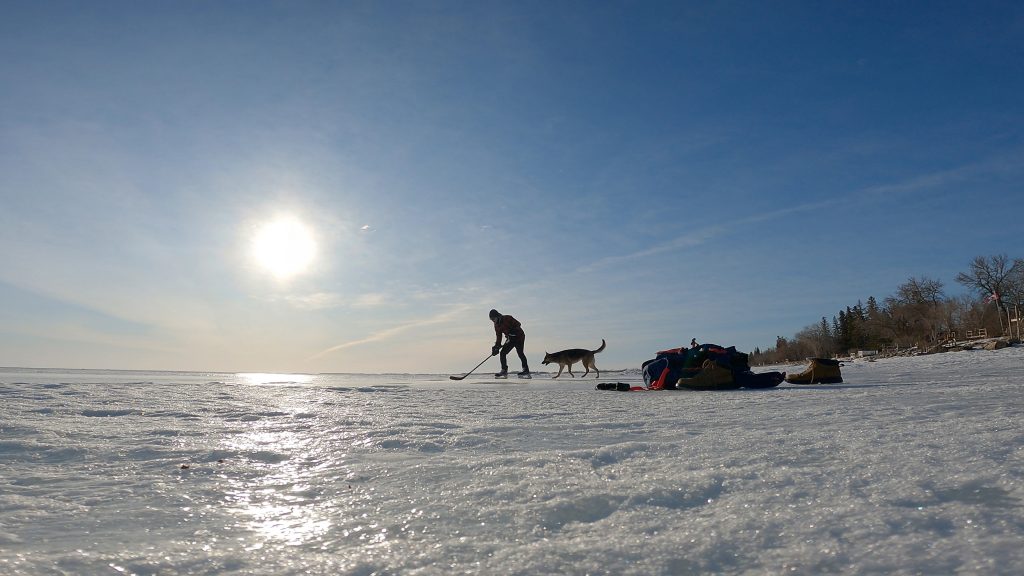 "I tried to work this into my message a little bit, but even if you don't have ice, like there are still things you can do, whether it's with a hockey ball or shooting a tennis ball against the fence. I've just been developing this thing as I go, and I'm still trying to figure out what it's going to be. But at the same time, I'm just letting it become whatever it's going to be naturally, pun intended, I'm just kind of following the puck. I had certain plans for things and some pan out, and some don't."
In March, Frykas returned to his hometown of Stonewall and captured the Stonewall Blues U11 A1 team's first skate since October. It's important to him to give back and help the community that helped him along the way. The team reached out because they'd seen the videos, and while they were only able to practice a few times, their outdoor skate was a memorable one.
Having fun is what it's all about. For Frykas, he's developed a platform to encourage playing for the love of the game, outside where it was meant to be played. His goal is to put together a series on different people and different places; all focused on getting outdoors and staying active.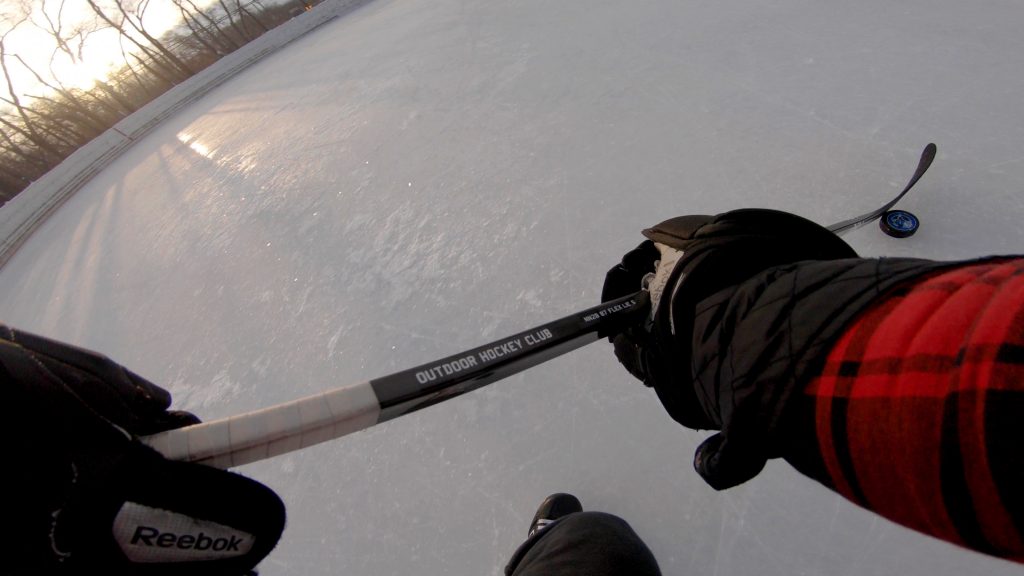 "I'd like to travel across Canada and focus on different people that are playing hockey outdoors, that are making rinks, that are doing different things with hockey outside and not really for the sake of making the NHL but for the fact that they just love the game. That's basically why I'm doing it. What can I do more to have more hockey as part of my life and take my skills as a filmmaker and storyteller and combine them."
During the spring and summer, he'll continue distributing Outdoor Hockey Club pucks and biscuits, and encouraging others to get active wherever it's safe to play. The current challenge is completing 100 straight days of playing hockey!
"It's the Outdoor Hockey Club, but like anyone can join. There's no tryouts, there's no signups, there's no registration. It's like if you've got a hockey stick, then you're basically in the Outdoor Hockey Club."
To learn more about the Outdoor Hockey Club, you can find them online at www.outdoorhockeyclub.bigcartel.com. Merchandise like shirts, pucks and biscuits are available for sale on the website. Follow along on Instagram @OutdoorHockeyClub and Twitter @ODRHockeyClub, or reach out to info@outdoorhockey.club to share an outdoor hockey story or memory.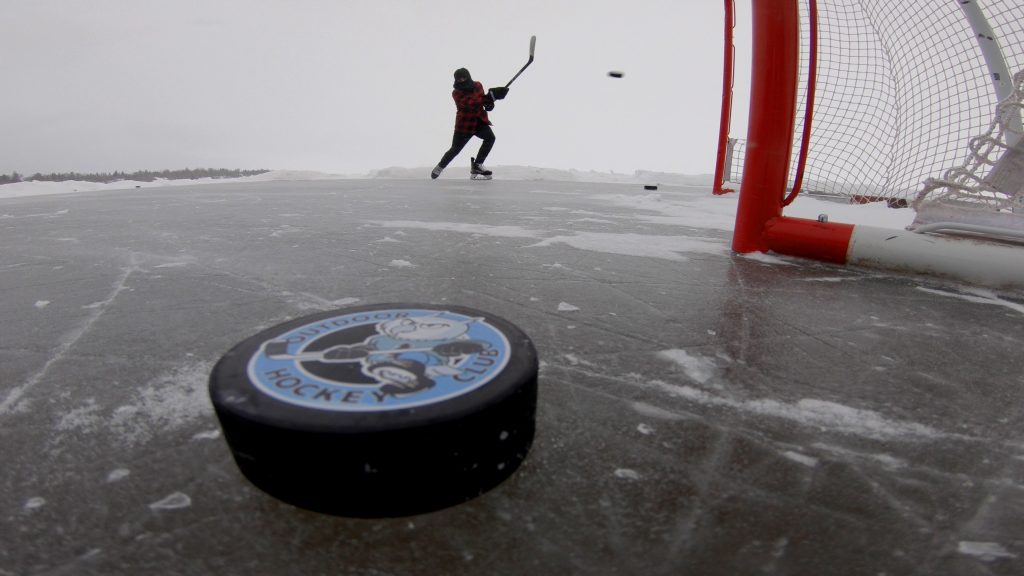 Photos courtesy of Randy Frykas