3 Stars Presented by Lawrie Insurance Group

The Toronto Leaside Girls Hockey Association provides residents of the Greater Toronto Area with exceptional female hockey programming. We had the opportunity to chat with TLGHA president Mark Schrutt to learn more about the Wildcats and their involvement in the #HockeyVacciNation campaign. Congratulations to the Toronto Leaside Wildcats!
VOTE FOR THE TORONTO LEASIDE WILDCATS! – Ends Friday, September 24
Answers edited for length and clarity
How did you enter to be a part of the #HockeyVacciNation campaign?
The campaign was forwarded to me by our Hockey Operations person. We are first the female hockey association to hire a full-time Hockey Operations person to help with skills and she's tuned in to the community and forwarded the email to me.
What charity/organization have you selected for your donation?
The Neighbourhood Organization (TNO). We have been working closely with them on The First Shift program. As a non-profit, we typically pass along our sponsorships or fundraising.
Can you tell us more about the Toronto Leaside Wildcats?
We've almost been around 50 years now, this is our 48th, and are the world's largest female-only association with 1,600 players which means a lot of parents and volunteers. As the biggest, we have a lot of responsibility and are very involved in the community. We strive to be leaders in progressive ideas, such as adding the position of Hockey Operations, our financial aid program, gender inclusion, and having a gender inclusion policy. Our value is leadership in learning through hockey and community.
How has COVID affected your programming? How did the teams stay connected and show that Wildcat pride?
Due to the numbers, we were closed from November on. We run a tournament each year in March and in 2020 everything was shut down six hours before it was to begin. The tournament's our only association-wide fundraiser so we missed out on two years of fundraising.
We immediately pivoted to online skills and exercise and nutrition programming. This was held twice a week throughout all of last season and again this year into April. The teams were not able to play any games and we were limited with practices to 10 on the ice which meant for one team we had to book almost two times the ice and didn't charge our players for it so that accumulated a tremendous extra cost, but the biggest thing was the girls were on the ice.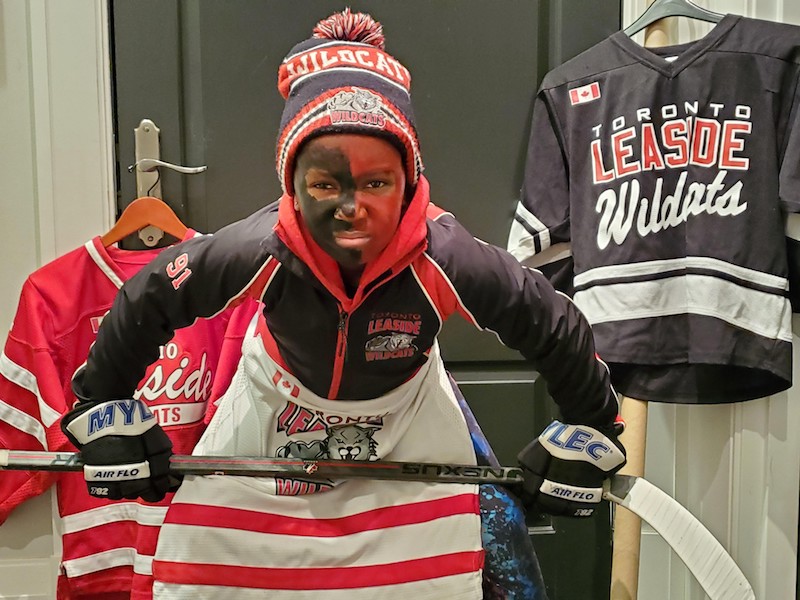 We have a couple of different groupings. Our house league and competitive are split even with registration which is unusual for girl's hockey which is mostly competitive. House league is actually our core. For house league, our teams were never really formed. So with online, our Wildcat Way sessions held twice a week were our way of engaging the girls. On the competitive side, we had the same thing but had smaller communities with the teams. The coaches and coaching staff were great with continuing to connect with the girls and families to keep that going. With my daughter's team, for example, the coach would have outdoor socially distanced walks with masks just to keep the girls engaged.
Are the Wildcats back on the ice or getting set to return to play?
Knocking on wood here. Our competitive season starts in August so they were practicing. The schedules haven't been set, our governing body the Ontario Women's Hockey Association has to do that, and the season usually starts mid-October. We have the Seniors League as well – anyone over 20 years old – which didn't happen that last year but we're planning to have that this year. So we're back on the ice and hoping for a mostly normal season.
How will the $500 donation be used?
Through the support of an Ontario grant, we've been able to work with The Neighbourhood Organization (TNO) on The First Shift, which is a program run by the NHL/NHLPA and Bauer for funding the introduction to hockey for new-to-hockey families. TNO is a community organization in the Flemington Park area of Toronto supporting low-income, marginalized and newcomer communities. Financially they face barriers and entry to hockey and sports, in general, is very limited so we are running programming for their girls at no cost. We also want to support their own initiatives and they need equipment to participate. Three months ago we ran an equipment drive for their players, who range from 3 to 18 years old, and it was very successful.
What does it mean for you to be a finalist for the $10,000 grand prize?
First off, thank you for awarding us the $500 dollars! To be a finalist is exciting. If we are awarded the grand prize we can put those investments where we can add the most value. We have a financial aid program so anyone with challenges can reach out. Oftentimes there are girls who don't want to play where they are playing because it's co-ed and they would prefer to play with girls only but they don't have the financial means to do so. So, we have a program that pays their registration and anything else that they need to play hockey. We also plan on continuing the online sessions and that can support being able to continue this programming.